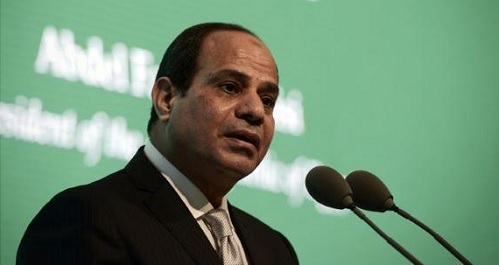 In an interview on Tuesday, Egyptian President Abdel Fattah El-Sisi reiterated Egypt's support of General Khalifa Hafter and his self-proclaimed "Libyan National Army" (LNA).
"It is our country's priority to back up national armies, for example in Libya, to assert control over Libyan territories and deal with extremist elements," said Sisi.
Haftar's self declared national army is made up of brigades based in eastern Libya. There has also been speculation that Haftar has hired foreign mercenaries to be part of his armed forces.
Sisi has openly supported the LNA since Haftar first launched Operation Dignity in May 2014. Haftar's forces claimed to be fighting a war against terrorism in eastern Libya, however, reports released by Human Rights Watch and other humanitarian organizations have found evidence that Haftar targeted anyone who opposes him, including civilians.
In addition, the UAE has also been a long time supporter of Haftar, providing military and logistical aid to the renegade general.
Haftar, who does not support the UN-backed unity government based in Tripoli, has reportedly attempted to prevent the eastern parliament from giving the Tripoli government a vote of confidence.